Back to School Night August 10th 4:00-7:00 pm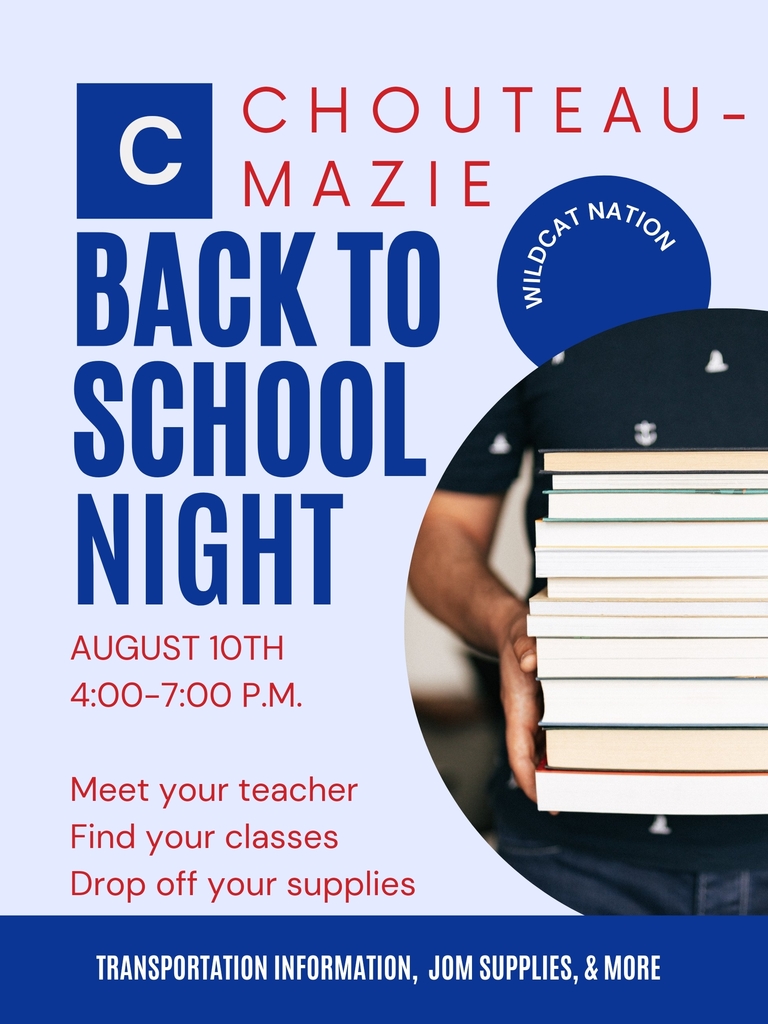 2nd Grade Orientation  August 3, 2021, 6:00 - 6:30 p.m.  Topics that will be covered on August 3rd during 2nd grade orientation.  Introduction to the Elementary Mission, Vision, and Goals Overview of policies and procedures. Return to Learn Plan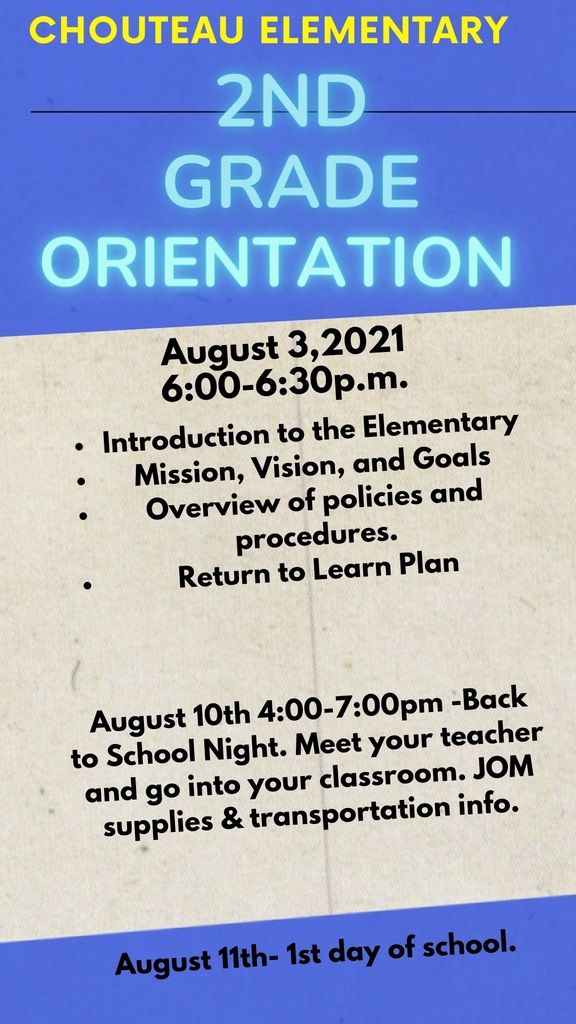 CMPS, Welcome Back to School! Wednesday, August 11th, 2021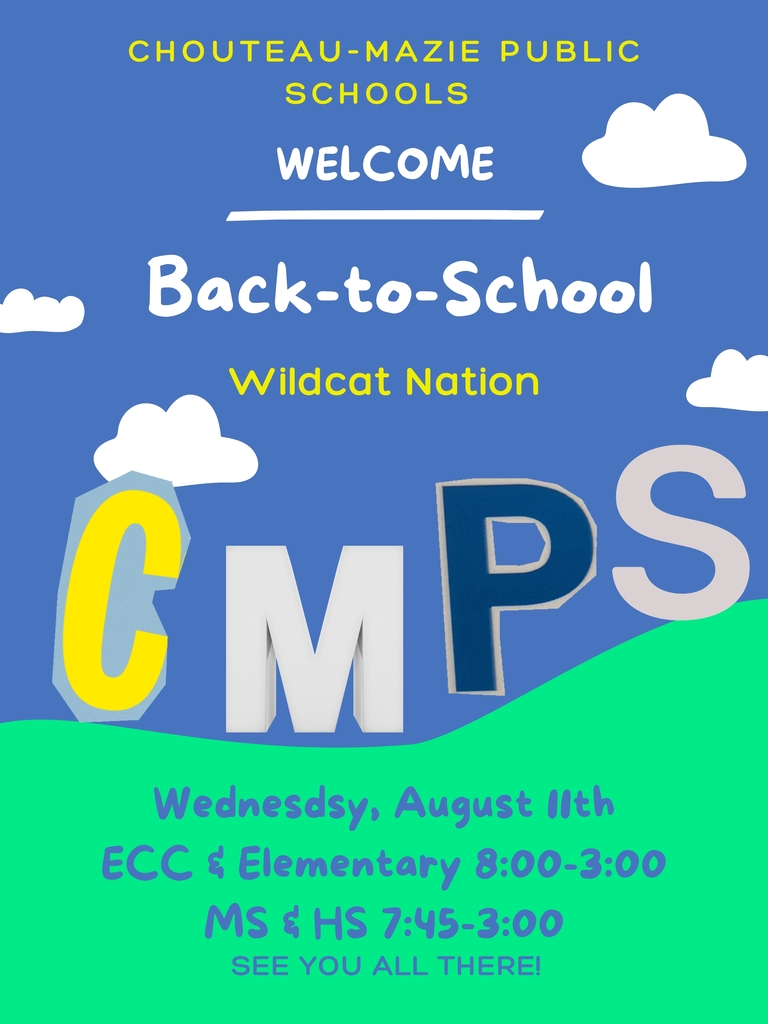 Can't wait to see everyone; there are 28 days until school starts!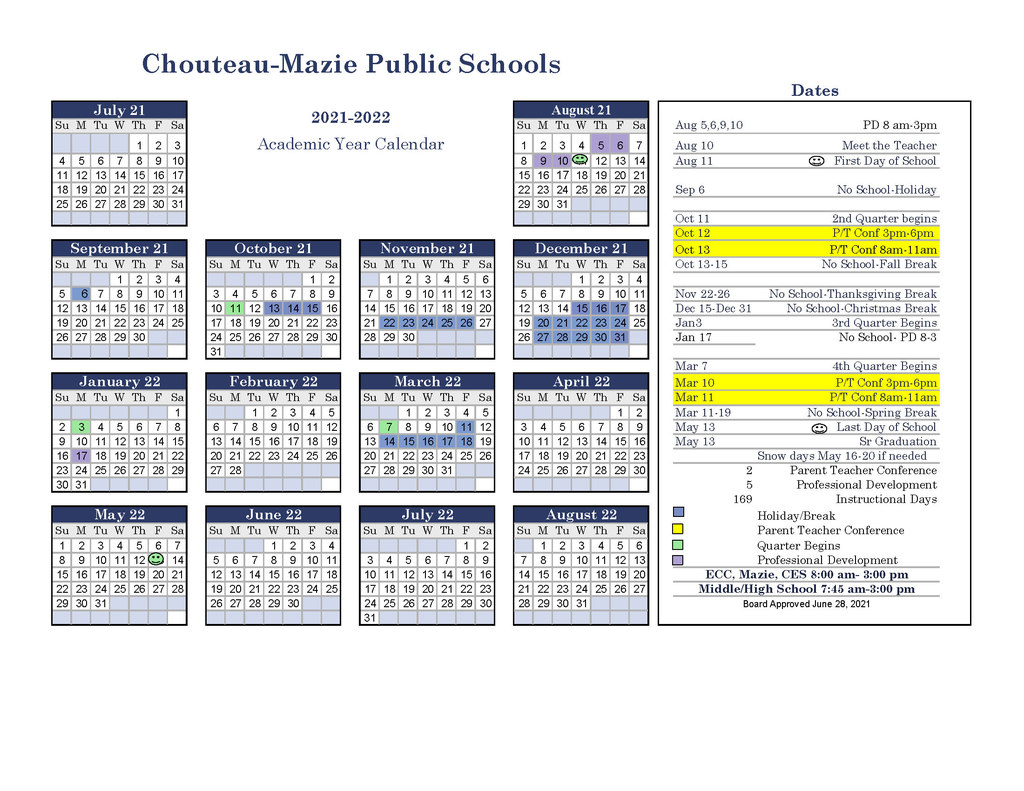 Tornado
https://youtu.be/phpeSHmmsZ8
Hurricane
https://youtu.be/yqN7z2NVjAw
During summer school, our project-based learning centered around extreme weather events. We discussed what types of extreme weather show up in different parts of the US. Each team chose an extreme weather event from their area. One group chose tornadoes, another hurricanes, and a third chose wildfires. They had to research the causes, damages and risks to people, animals, and property, and what people need to stay safe. They had a choice for their final project. They could build a model, make a PSA, create a newscast, design a fundraising project. Two groups loved the idea of making a video, so these are the two groups who chose to make videos. During summer school, 3rd grade students researched extreme weather patterns, their causes. Sommer Reider Reading Specialist

a few pics from Summer STEM Camp...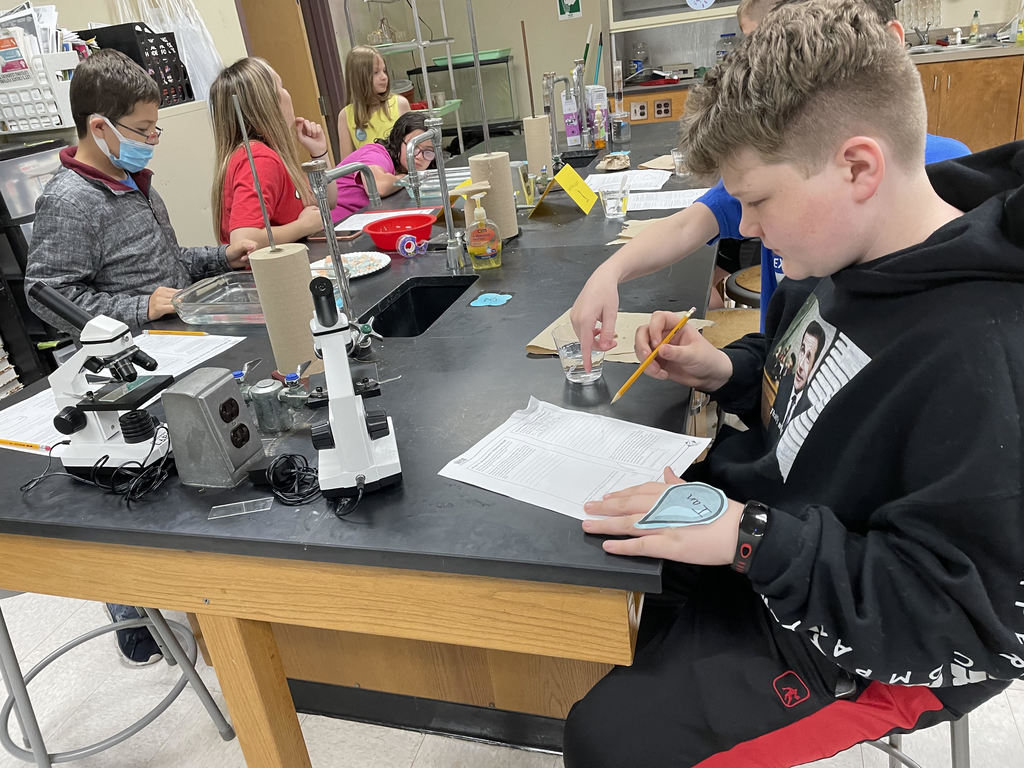 The Color Run was a success! The kids and staff had a grand ole time! Together we raised $3,289.36 for Kathy Cochran to help with expenses of her husband's illness. She shared that she will be using the money to make accommodations to her home before her husband, Robert, returns. Hopefully, he will be home at the end of this month. They will widen doorways and the like. #blessing #community #chouteauwildcats It is a blast being a Chouteau Wildcat! Happy summer to you all! Live well & see you in the fall.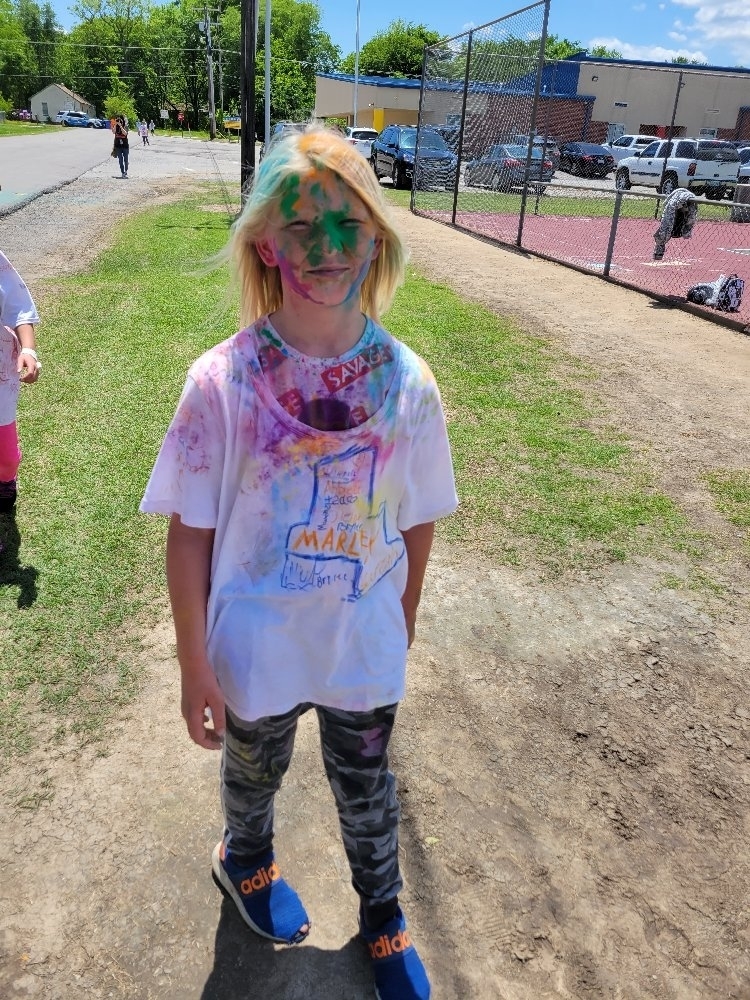 Congratulations Band! We are proud of you for earning 16 superior and 2 Excellent awards at the Tristate Music Festival in Enid. Good job, Clarissa Jackson, Aiden Spaulding, Jakob Grossman, Zayda Decker, Celeste Mendoza, McKenna Cheary, Grace Shavers, Tshoua Xiong, Taniyah Hopson, Tayana Hopson, Peyton Sellers, Skyla Tapia, Victoria Bigler, Sara Stout, Kaleb Kroeker, Zoe Decker, Kennedy Glazebrook, Colton Rott, Madeline McNabb. Way to go Wildcats!

Congratulations Brianna! Brianna Tweed has been accepted in a summer, residential program in Emerging and Converging Technologies at Oklahoma State University Institute of Technology! She is the first Chouteau student to be accepted to such the program! We are proud of you, and we know you will represent Chouteau High School well. The High School Robotics team qualified for State at the beginning of the month. We will compete at State on Saturday, May 1st; if you see one of the kids on the team, please give them some "good luck" and "congratulations!"

Swimming Celebration at Pryor Recreation Center LIFE GAURDS WILL BE ON DUTY, Plus TEACHERS. Who: Chouteau Elementary students who have returned their permission slip. This is due no later than Thursday, April 29th. What: Play time in the pool and basketball gym. Girls swim for the 1st hour will boys are in the gym, then vice-versa. When: Friday, April 30th 12:00-2:00 p.m. Where: Pryor Rec Center Bring: Swimsuit Towel Extra dry clothes Sandals Grocery bag to hold wet items (Some will be available at school if needed) The Rec Center asks that our students wear "family friendly" clothing (no bikinis and no white t-shirts, as they show through easily.) The Rec Center does not have enough towels for everyone, so have your child bring their own, as well as a change of clothes to play basketball in, or to leave the facilities in.

Congratulations to the Chouteau FFA Ag Mechanics Team! The team qualified as one of the top 5 teams in the state and will be competing Saturday in the state ag mechanics competition, which includes, welding, electrical and plumbing. Good luck Luke Kester, JJ Corbett, Kylee Napier and Lane Frailey! We are proud of you.

Dear Chouteau-Mazie Families: Due to the decrease in the number of overall cases of Covid-19 in the state of Oklahoma, and in Mayes County, CMPS will reduce the restrictions previously placed on our campuses. We will return to Scenario 1, in The Board Approved Return to Learn Plan, beginning Monday, April 19, 2021, for the 18 remaining days of the school year. Scenario 1- "School will resume as normal with protocols in place for social distancing and limiting exposure for students and staff as much as possible. Face coverings will not be required where there is no evidence of community spread and social distancing is possible. CMPS will monitor the changing conditions of COVID-19, and our policy may change under advisement of health officials." Please note that these reductions in restrictions only refer to on campus activities. Due to the Executive Order signed by the President January 21st, face coverings are still required on buses until further notice. Please be aware that there may be students/adults who have health conditions that qualify under the Americans with Disabilities Act that prevent them from wearing a face covering. We are excited to begin welcoming our families back on campus!

Congratulations to Chouteau Elementary, and to ECC teacher, Susan Applegate! We are so proud of you. Chouteau Elementary is one of two Oklahoma schools who are finalists for the School Character Award. Mrs. Applegate is a finalist for the Elementary Merit Award. Both CES and Mrs. Applegate will be honored April 30th at the Excellence in Education Banquet in OKC. Good Luck!

Dear Parents: We are fortunate to live in  and serve a community that believes in the power of public education. The Chouteau-Mazie Public Schools team knows our friends, neighbors and fellow residents sincerely want every student in our district to experience academic and personal  success.    Our school board recently embarked on a major initiative to develop a five-year strategic plan for the school district's future. This is an opportunity for us to discuss what we want education and our schools to look like for our students. As a parent of a Chouteau-Mazie student,  your involvement is critical to this effort.   Our district is partnering with the Oklahoma State School Boards Association (OSSBA) and the K20 Center at the University of Oklahoma to develop this plan, which is expected to be completed by the spring of 2022. The first step in the process begins today with an online survey for parents to learn their thoughts about the school district and its services. We hope you will take time to complete the short questionnaire before April 23. All responses will be sent directly to OSSBA staff.
https://docs.google.com/forms/d/1_V4VKX49LDp4r7g3_MFmsyqu6wGlESVMjuz6uElUkes/viewform?edit_requested=true
This is an exciting, intensive process that many other school districts throughout Oklahoma have successfully adopted and implemented to ensure their districts have clear, student-centered goals that lead to continual improvement.  Thank you for your support of the district and for being involved in this important process. I can't wait to work together to take our district – and our services for students – to the next level.    Sincerely,  Lori Helton Superintendent

I am excited to share with you that families with children receiving free or reduced school meals from participating school districts may qualify for free food this summer. The Cherokee Nation Summer Nutrition Program is now accepting applications for the Summer EBT for Children program. As discussed earlier this year, I am attaching the link for you to help share with your families to start applying. The goal is to have cards out to family's in early May, depending on the timeline of when the households apply online with data. Please share the link on your districts webpage, twitter, Facebook, text messages and any other outreach that your district has in place. To apply, they will click link.
https://health.cherokee.org/public-health/women-infants-children/sebtc/
This federally funded program is available to anyone; you do not have to be American Indian to qualify. Qualifying families will receive approximately $30 of free food per child per month for May, June and July. Benefits are on an EBT card (works like a debit card) that allows you to purchase healthy food for the summer. Participation in this program will have no impact on other government assistance that you and your child receive. Information provided by you on the data spreadsheet or any records obtained for this program will be kept confidential as required by law and will be used only for this project. Once approved, Summer EBT cards will be mailed to the address provided along with a list of participating stores and a food card (shopping list) that will help you identify approved food items. Families with questions can call Cherokee Nation SEBTC at (539) 234-3265 or (800) 256-0671 ext. 5589 between 8 a.m. and 5 p.m., Monday through Friday with questions. Thank you for working with Cherokee Nation WIC and partnering with us to reach out to our area families to supplement nutritious foods for the summer months.
https://health.cherokee.org/public-health/women-infants-children/sebtc/
Any questions or concerns, please contact me or Brenda Carter at 918-453-5291, Monday through Friday between 8a.m. and 5 p.m. Melissa Stayathome Special Assistant, Cherokee Nation WIC Summer Nutrition Electronic Benefits Project
melissa-stayathome@cherokee.org
918-453-5572

Chouteau-Mazie School will take our 2 remaining snow days this week, Thursday, February 18th and Friday, February 19th. At this point, we do not have to make up the days. If we need to take additional days this year will make them up at the end of the year. We plan to return to in person learning Monday, February 22nd. Focus on your families, play in the snow, and stay safe!

Chouteau-Mazie Schools will continue with Distance Learning Tuesday, February 16th, and Wednesday, February 17th due to temperature and weather conditions. We are watching the weather forecast and will re-evaluate Wednesday when we can return to in person learning. We hope our families are staying safe and warm.

Chouteau-Mazie Schools will remain on Distance Learning for the rest of this week, Thursday 02/11, and Friday 02/12, due to weather and road conditions. Teachers will be available via Google Classrooms and email. Monday, February 15th is a scheduled school holiday to observe President's Day. We hope to be back in class Tuesday, February 16th. Stay safe and warm!